My Blog
Posts for tag: nutrition
By Smile Designers
July 13, 2018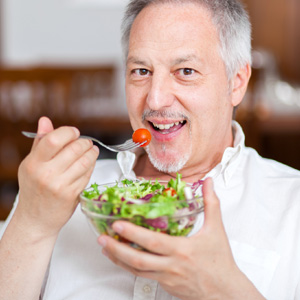 One of the most popular subjects in books, magazines and social media is food — the things we should or should not eat (or at least not too much). While losing weight is a popular focus, it's only one part of the whole — a balanced diet that supplies the nutrients we need to be healthy.
What you eat can also make a difference in your oral health. Here are 4 changes you should make to your dietary habits to cut down on the risk of dental disease.
Adopt a nutritionally sound diet plan. When we say diet, we're not talking about the latest weight-loss sensation — we mean a planned way of eating for life. For most people, that's a balanced diet of fresh fruits and vegetables, protein and dairy. Your teeth and gums have the best chance of remaining strong and healthy with a nutrient-rich diet.
Manage your sugar intake. Sugar and similar carbohydrates are a rich food source for bacteria that cause dental disease. It's important then that you keep your sugar consumption within limits: don't eat more than six teaspoons of processed sugar a day (or three for a child); avoid sugary snacks between meals; and try to satisfy your sweet tooth with the natural sugars found in fresh fruits and vegetables.
Cut back on acidic beverages. Sodas, juices, sports and energy drinks are all the rage. They're also high in acid, which at chronic levels can soften and erode tooth enamel. So, try to drink them only at meal times and avoid sipping on them over long periods. And, if you're hydrating yourself after moderate work or exercise, try nature's perfect hydrator — water.
Avoid eating before bedtime. A good portion of the acid in our mouths after we eat can be neutralized by saliva. As we sleep, though, our saliva flow slows down and doesn't have the same buffering power as it does during the day. So, try not to eat as least an hour before you turn in for the night, especially foods with added sugar.
If you would like more information on nutrition and oral health, please contact us or schedule an appointment for a consultation. You can also learn more about this topic by reading the Dear Doctor magazine article "Nutrition & Oral Health."
By Smile Designers
May 22, 2018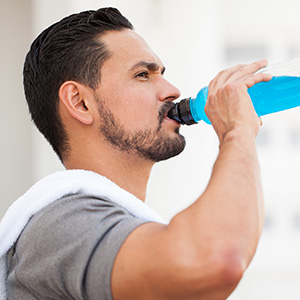 In the sports world, athletes are always looking for an edge. And it's not just college or professional sports—even Little Leaguers are focused on enhancing their performance.
That's why sports and energy drinks have rocketed in popularity. With marketing pitches promising to increase stamina or replace lost nutrients from strenuous workouts, it's not unusual to find these beverages in sports bags or the team water cooler.
But there's a downside to them regarding your dental health—they're often high in sugar and acidity. Both drink types could increase your risk of tooth decay or periodontal (gum) disease over time.
Sugar is a primary food source for the bacteria that can trigger a gum infection. They also produce acid, which at high levels can erode tooth enamel and lead to tooth decay. The risk for enamel erosion also increases with the drink's acidity.
You can lessen your risk of these unpleasant outcomes by restricting your consumption of these beverages. In fact, unless your sports activity is highly strenuous for long periods, your best hydration choice is usually water.
But if you do drink a sports or energy drink for an extra lift, be sure to take these precautions for the sake of your teeth:
Try to drink them only at mealtimes. Continually sipping on these drinks between meals never gives your saliva a chance to neutralize mouth acid. Reserving acidic foods and beverages for mealtimes will allow saliva to catch up until the next meal.
Rinse with water after your drink. Water usually has a neutral pH. This can help dilute mouth acid and reduce the mouth's overall acidity.
Don't brush right after drinking or eating. Increased acid that can occur right after drinking or eating can immediately soften tooth enamel, but saliva can neutralize and help restore minerals to tooth enamel within an hour. Brushing during this period could remove tiny bits of the enamel's minerals.
Taking these precautions will help keep sports or energy drinks from eroding your tooth enamel. Once it's gone, you won't be able to get it back.
If you would like more information on protecting your tooth enamel, please contact us or schedule an appointment for a consultation. You can also learn more about this topic by reading the Dear Doctor magazine article "Think Before You Drink: Sports and Energy Beverages Bathe Teeth in Erosive Acids."
By Smile Designers
January 29, 2018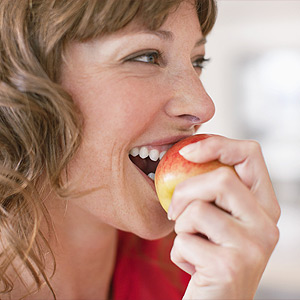 Good nutrition is vital for maintaining health and preventing disease, especially for your mouth. A diet rich in whole foods — fresh fruits and vegetables, protein and dairy products — and low in sugar will not only promote strong teeth and gums, but lessen your chances of developing tooth decay or periodontal (gum) disease.
Diet is also a prominent factor in reducing the risk for another serious mouth disease — oral cancer. While oral cancer makes up only 3% of total cancer cases reported annually, the five-year survival rate is a sobering 50%, much lower than for other types of common cancers. While genetics plays a role in your susceptibility to oral cancer, lifestyle choices and practices present the greater risk factors for the disease.
Of these lifestyle factors, refraining from tobacco products, moderating your alcohol consumption and avoiding risky sexual behavior are of primary importance in reducing your cancer risk. With that said, you should also take into account the foods that are part of your daily diet — both what you should and shouldn't eat. As an example of the latter, some foods contain a class of chemicals known as nitrosamines that are carcinogenic (cancer-causing). One such chemical, nitrite, is used as a preservative in meats like bacon or ham, and may also be found in beer, and seafood products.
On the positive side, your diet should be rich in foods that supply antioxidants, substances that protect the body's cells from damaging, unstable molecules known as free radicals. The best sources for antioxidants (more so than dietary supplements) are plant foods rich in fiber and vitamins C and E. Eating more of these may also reduce your intake of nitrates, animal fat and saturated fat.
Adopting a moderate, nutritious diet, along with exercise, can have a huge positive impact on your general health and quality of life. Along with other lifestyle changes, better dietary choices can also help ensure a healthy mouth and reduce your risk of oral cancer.
If you would like more information on the role of nutrition in reducing your risk of oral cancer, please contact us or schedule an appointment for a consultation. You can also learn more about this topic by reading the Dear Doctor magazine article "Diet and Prevention of Oral Cancer."